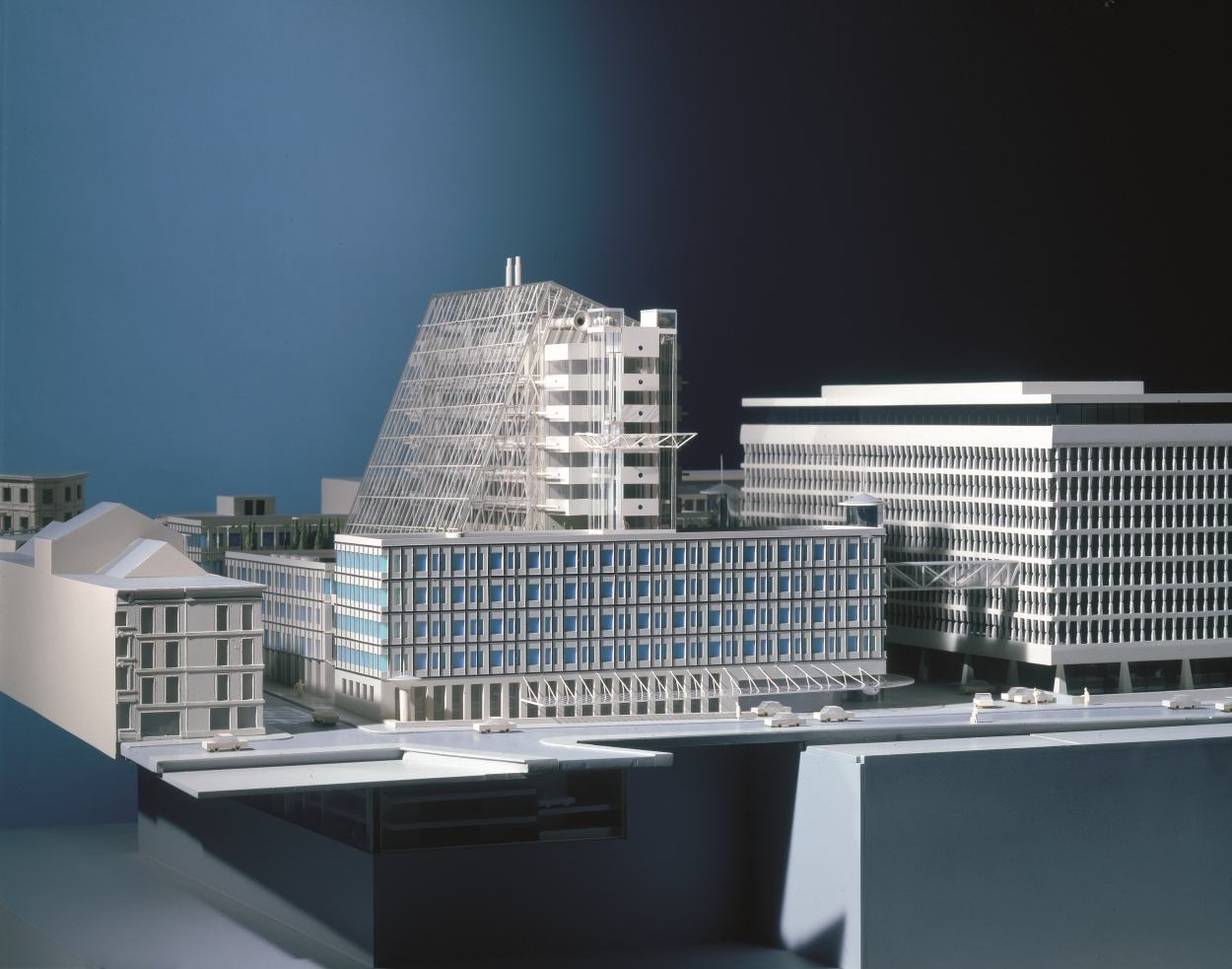 183-Banques Bruxelles Lambert
Extension of the headquarters
avenue Marnix
Brussels
BELGIUM
Invited competition entry: 42,000 sqm.; 1987; (01/183).
Realisation: 52,000 sqm.; 1988 – 1993; (03/141). Winning competition entry.
Realisation (architectural consultance)
Assistance to client and S.O.M. New York Office for project and construction management
Transcription of specification to Belgian standards
Quantity surveying. (1987-1993); (01-183).
Invided competition entry; winning project
– Architecture
– Landscaping
– Structural engineering
2003.03.14 
The BBL headquarters on Avenue Marnix is the 1960 conception of Gordon Bunshaft (S.O.M., New York). The headquarters is his first building constructed in concrete, and represents an important turning point in the work of the American architect.

In response to BBL's wish to expand the headquarters, the proposal includes the creation of a private interior courtyard juxtaposed to the existing building, around which are grouped low-rise buildings, in keeping with the scale of surrounding streets, and a central main building. Such main building has a double exterior facade that reflects the existing headquarters building directly on one side, and a large oblique atrium on its other side.
This is the first time the team used the concept of a double facade design, a fruitful design for future other projects.

The main building will be suited to use by the BBL as well as other tenants and provides for clear identification of the latter. The presence of banking equipment and extensive underground parking space require the main building to be completely suspended by triangulated facades, that attach to the lateral cores of vertical circulations.
The proposal is the winning entry of a limited competition for the project. However, the BBL instead wished to replicate the existing building, a project carried out by Samyn and Partners in close cooperation with S.O.M.'s New York Office.
L'ARCA n° 32, November 1989, pp 44-49 ; (Italy)
A PLUS n° 105, 4/1989, pp 58-65 ; (Belgium).
Architecture and Engineering: Philippe SAMYN and PARTNERS All projects are designed by Philippe Samyn who also supervises every drawing
Structural Engineering: Philippe SAMYN and PARTNERS with SETESCO (sister company 1986-2006) or INGENIEURSBUREAU MEIJER (sister company since 2007) if not mentioned
Services engineering: Philippe SAMYN and PARTNERS with FTI (sister company since 1989) if not mentioned
| | |
| --- | --- |
| 01-183 | BANQUE BRUXELLES LAMBERT BANK, EXTENSION OF THE 'MARNIX' HEADQUARTERS, BRUSSELS. |
| Client: | BANQUE BRUXELLES LAMBERT. |
| Architecture: | Y. Azizollahoff, W. Azou, M. Cedrone, B. Ney, E. Collignon, R. Delaunoit, S. Gayda, T. Khayati, D. Mélotte, M. Migeotte, Ch. Van Deuren, B. Vleurick. |
| Services: | MARCQ & ROBA. |
Model : Bauters Sprl.
Drawings : Samyn and Partners.
Invited competition entry: 42,000 sqm.; 1987; (01/183).
---
For plans sections and elevations, please refer to the archives section of the site available from the "references" menu.