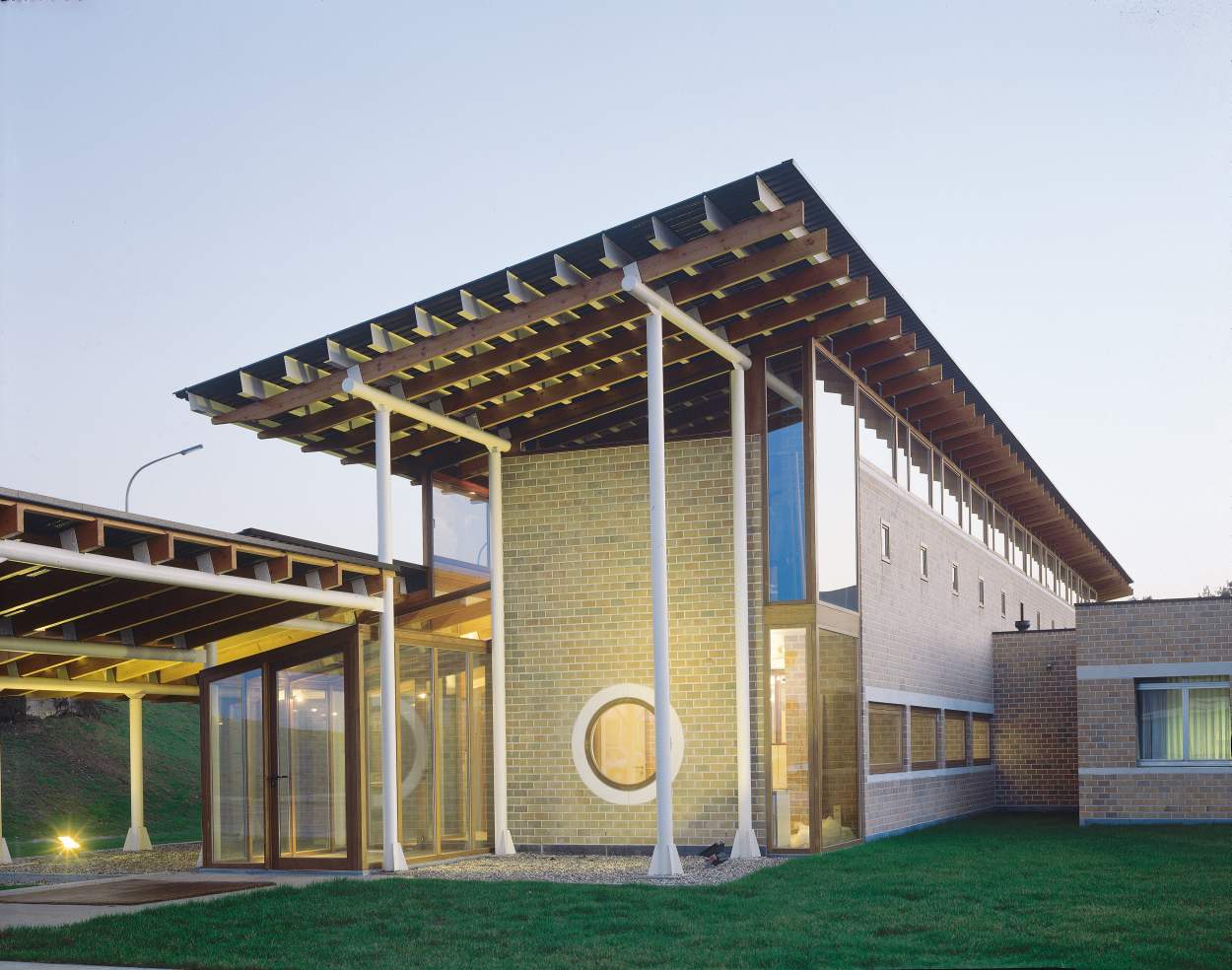 186-Thompson Aircraft Tyre Corporation Belgium s.a.
Rénovation et extension de bureaux
Route de Bavay, 72 – 7080 Frameries, Belgique
50°24'36.69''N/3°55'26.32''E
1,080 m² (1987-1991); (01-186).
– Architecture
– Construction management
– Interior design
– Landscaping 
– Mechanical, electrical, plumbing engineering
– Project management
– Quantity surveying
– Structural engineering
 2003.03.11
The Thompson Aircraft Tyre Corporation retreads aeroplane tyres and has a multinational clientele. Thompson's factory was constructed in 1952. While the production facilities were up-to-date, the existing office space required extension and renovation.
The extensions and their accesses are added in a linear fashion to existing buildings so as to create a new facade. A longitudinal passageway provides access to and visual communication between two office zones on different levels. Four rows of reinforced concrete columns support the floors and roofs. The systematic dissociation of each structural element confers visual lightness to the building. The contemporary use of traditional materials provides equilibrium to interior space that must be used both for interactive and high-technology work.
HOUTNIEUWS – LE COURRIER DU BOIS, n°93, 2nd term 1991, pp. 31-32; "Rénovation et extension des bureaux de Thompson Aircraft", " Renovatie en uitbreiding van de kantoren van Thompson Aircraft"; (BE).

TERRE CUITE ET CONSTRUCTION – BOUWEN MET BAKSTEEN, n° 2? 1991, pp. 1-5; "Thompson Aircraft Tire Corporation"; (BE).

L'ARCA, n° 49, May 1991, p 103 ; (Italy).

L'ARCA, n° 54, November 1991, pp 34 – 38 ; (Italy).
Architecture and Engineering: Philippe SAMYN and PARTNERS All projects are designed by Philippe Samyn who also supervises every drawing
Structural Engineering: Philippe SAMYN and PARTNERS with SETESCO (sister company 1986-2006) or INGENIEURSBUREAU MEIJER (sister company since 2007) if not mentioned
Services engineering: Philippe SAMYN and PARTNERS with FTI (sister company since 1989) if not mentioned
exterior : Studio Claerhout.
interior : Ch. Bastin & J. Evrard
1,080 sqm.   (1987-1991); (01-186).
---
For plans sections and elevations, please refer to the archives section of the site available from the "references" menu.