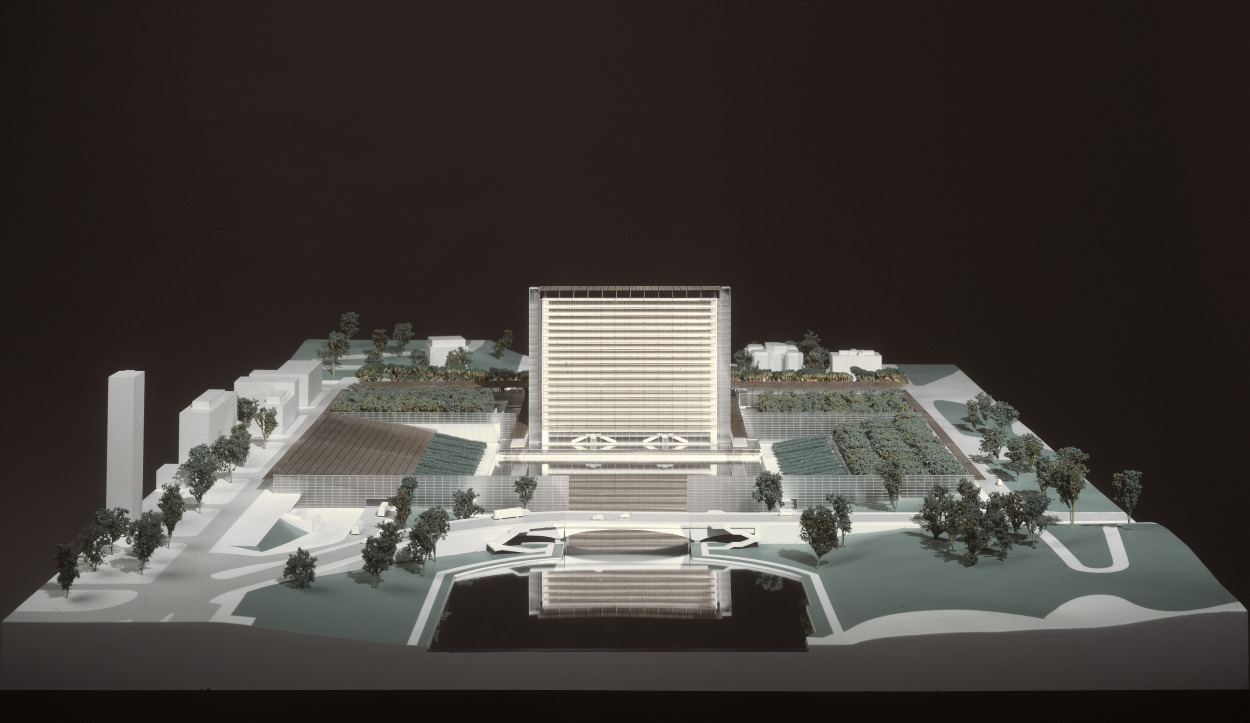 375-ENI Headquarters
Conversion of an office building
Rome
ITALY
25.000 sqm. gross office area, 22.200 sqm. infrastructure, 9 Ha park (1998); (01-375).
Invited competition entry; preliminary design
– Architecture
– Building physics and internal climate
– Construction management
– Interior design
– Landscaping
– Mechanical, electrical, plumbing engineering
– Project management
– Quantity surveying
– Structural engineering
This project is a response to an invitation to restructure and restyle the ENI Headquarters in Roma – EUR, Italy.
The original building, a 20 storeys high office building built in the 1960's, was a model of contemporary and up-to-date architecture at the time. Thirty-five years later, it was decided to make it once more an example of today's progress and technology.
Set in the apparent rectilinear organization of the EUR neighborhood, the gardens and lake surrounding the building are nonetheless chaotic and unsettling. As a result a proposal to reorganize the site was also examined.
Fifteen-meter high – landscape walls in opaline glass bring a sense of direction to the site. The messy open air parking is relocated in an underground structure lit by sunlight and is replaced by structured terrace gardens, planted with different varieties of oaks. These trees, in conjunction with ponds and fountains as well as sidewalks shaded by awnings, are an effort to weather the hot climate of Rome.
A variety of functions and buildings are regrouped under a great, long awning bordering the building to the East, housing the controlled entry to the building. This entity also acts as an urban negotiator between the public realm and the highly-secured private territory.
Once inside, one is led to the building by an esplanade covered by trees and bordered by glass awnings.
To temper the climate inside the building a system has been devised that will keep the solar radiation out and keep the view clear. A combination of white striped glass, blocks the perpendicular rays of the sun but still alows vision at an angle. This glass is set in large rotating panels, covering the East and West façades and follows the sun in a shimmering display.
The reception area, spread over two mezzanine levels, opens up onto the lake and connects to the dining area and conference rooms on the lower level. These public spaces are designed to allow as much natural light and views on the gardens as possible.
From the reception area, panoramic glass elevators are added on either side of the building which lead employees to their respective floors. A wide central space slices through the building, bordered by clear and opaline glass bringing in natural light. It is a refreshingly bright substitute for the existing dark maze of corridors. On either side of the central space, offices can be modulated according to the needs of each department. Opaline and clear glass office partitions can be moved easily. Suspended ceilings, ventilation, lighting, acoustics, all have been studied so as to allow a flexible layout following a global modulation grid running through the building.
Document E41_01/375 -En Issue of 1999-10-29
Architecture and Engineering: Philippe SAMYN and PARTNERS All projects are designed by Philippe Samyn who also supervises every drawing
 Structural Engineering: Philippe SAMYN and PARTNERS with SETESCO (sister company 1986-2006) or INGENIEURSBUREAU MEIJER (sister company since 2007) if not mentioned
Services engineering: Philippe SAMYN and PARTNERS with FTI (sister company since 1989) if not mentioned
| | |
| --- | --- |
| 01-375 | RENOVATION PALAZZO ENI, ROMA (IT). |
| Client: | Immobiliare Metanopoli. |
| Architecture: | B. Darras, T. Louwette, S. Reiter. M. Ruelle, Q. Steyaert, G. van der Vaeren, E. Van Meerbeek. |
| Services: | Samyn and Partners with MARCQ & ROBA. |
L'ARCA n° 140; and L'ARCA INTERNATIONAL n° 30, September 1999, pp. 2-29;(Italy).
25.000 sqm. gross office area, 22.200 sqm. infrastructure, 9 Ha park; 1998; (01/375).
---
For plans sections and elevations, please refer to the archives section of the site available from the "references" menu.