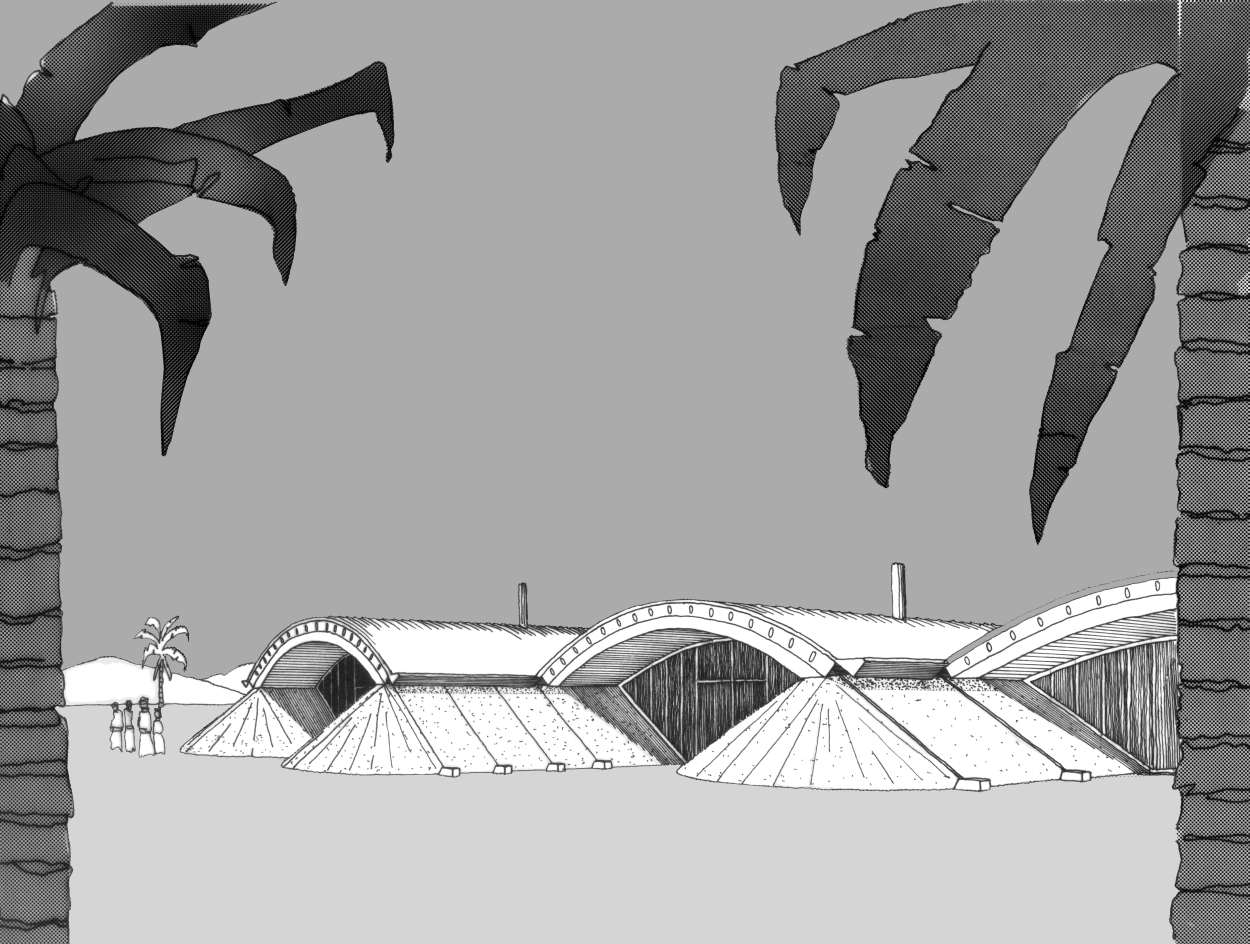 110 – Hall on Camel Back
Light metal hall for desert areas
BELGIUM
(1984); (01-110).
– Architecture
– Interior design
– Mechanical, electrical, plumbing engineering
– Quantity surveying
– Structural engineering
 2001.02.27
Following a reflexion on constructive systems exported to North African countries, a scheme for a metal building in kit form was developed, allowing for the construction of various building types such as simple industrial plants, small schools, community clinics or even housing.
It allows for transportation in parts, on a mule or a camel, or possibly in a light van.
Easy to assemble and to dismantle; it requires no water, nor external sources of energy for assembling, nor any tools.
The system is compact for transport and can be reassembled at other locations.
It is to be noted that the system also features foundations, which is not the case for any other known system.
Thermal massing is ensured by plastic water bottles covering the interior sides of the vaults.
INDUSTRIE, n° 14, May 1985, p.12; (Belgium).
Architecture and Engineering: Philippe SAMYN and PARTNERS All projects are designed by Philippe Samyn who also supervises every drawing
Structural Engineering: Philippe SAMYN and PARTNERS with SETESCO (sister company 1986-2006) or INGENIEURSBUREAU MEIJER (sister company since 2007) if not mentioned
Services engineering: Philippe SAMYN and PARTNERS with FTI (sister company since 1989) if not mentioned
 (1984); (01-110).
---
For plans sections and elevations, please refer to the archives section of the site available from the "references" menu.