© Zwart/Wit communicatie bvba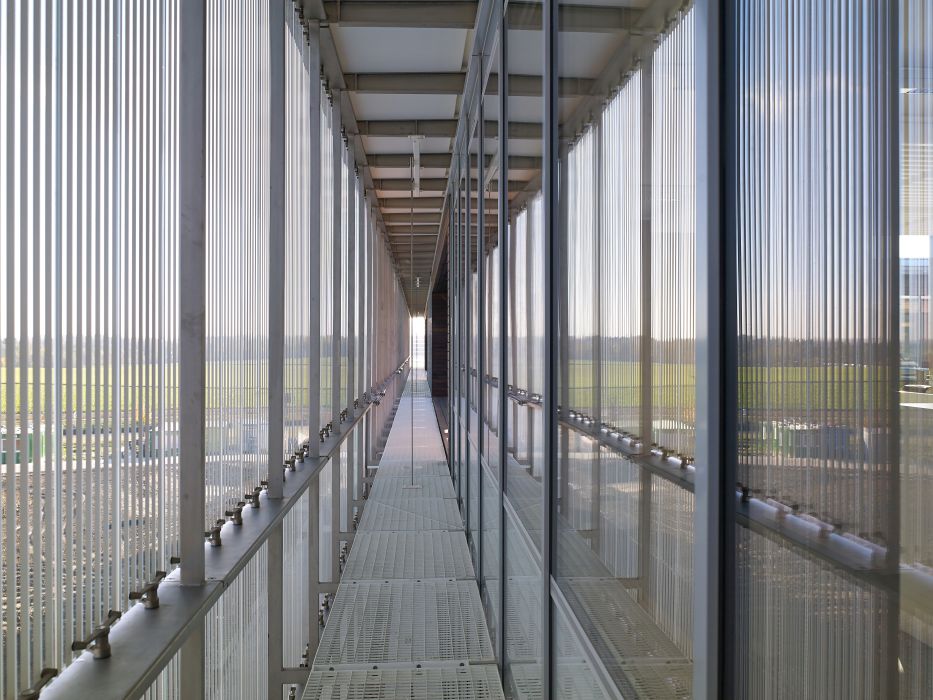 03/402-1 – SUNSHIELDING LOUVRES IN THIN STEEL SHEETS
Introduction
Openwork blinds, wooden lattices, louvres, sunshields of all sorts are traditional construction elements of the building envelope, anywhere on Earth.
These elements often combine various functions beyond solar protection itself. In hot countries particularly, they form a breathing fence for the accommodation. Most of them are still made of wood.
Opaque louvres efficiently counter solar radiation, but inevitably limit daylight penetration. In order to maximise both the efficiency of sun protection and transparency, it is only logical that the louvres should spin according to the sun's path, thereby always remaining perpendicular to it.
If the louvres are placed horizontally on the building's North and South facades, and vertically on the East and West ones, they are less frequently completely shut, and the facade's global transparency rises (figure 1).
However, since it is impossible to fully prevent them from closing when the sun approaches the horizon, it should be possible to significantly increase the amount of natural light entering the building by making the louvres themselves slightly transparent, yet keeping an unaltered level of sun protection.
With this in mind, I imagined as soon as 1998, for the refurbishment of the ENI Headquarters in Rome (the "Palazzo Mattei", 01-375[1], figure 2), large louvres in clear glass, showing on both sides white stripes, alternating and separated from each other by their width. I could carry out this concept to fruition for the headquarters of AGC Glass Europe[2] in Louvain-la-Neuve, in 2011 (01/577, figure 3), granting a nearly zero energy building with maximum quality of light and transparency[3].
[1]Numbers 01-xyz refer to the file number to insert in the "research" field on www.samynandpartners.com for more details on the project.
[2]Philippe Samyn architect and engineer – Jan de Coninck: "AGC Glass Building". Lannoo Editions, Brussels, May 2014, 256 p. (in English: ISBN 978-2-87386-884-0).
[3]Many other types of glass louvres have been used for decades in Europe without reaching the same performances.
Illustrated text complete on "Sunshielding Louvres in Thin Steel Sheets"(2016-12-28).