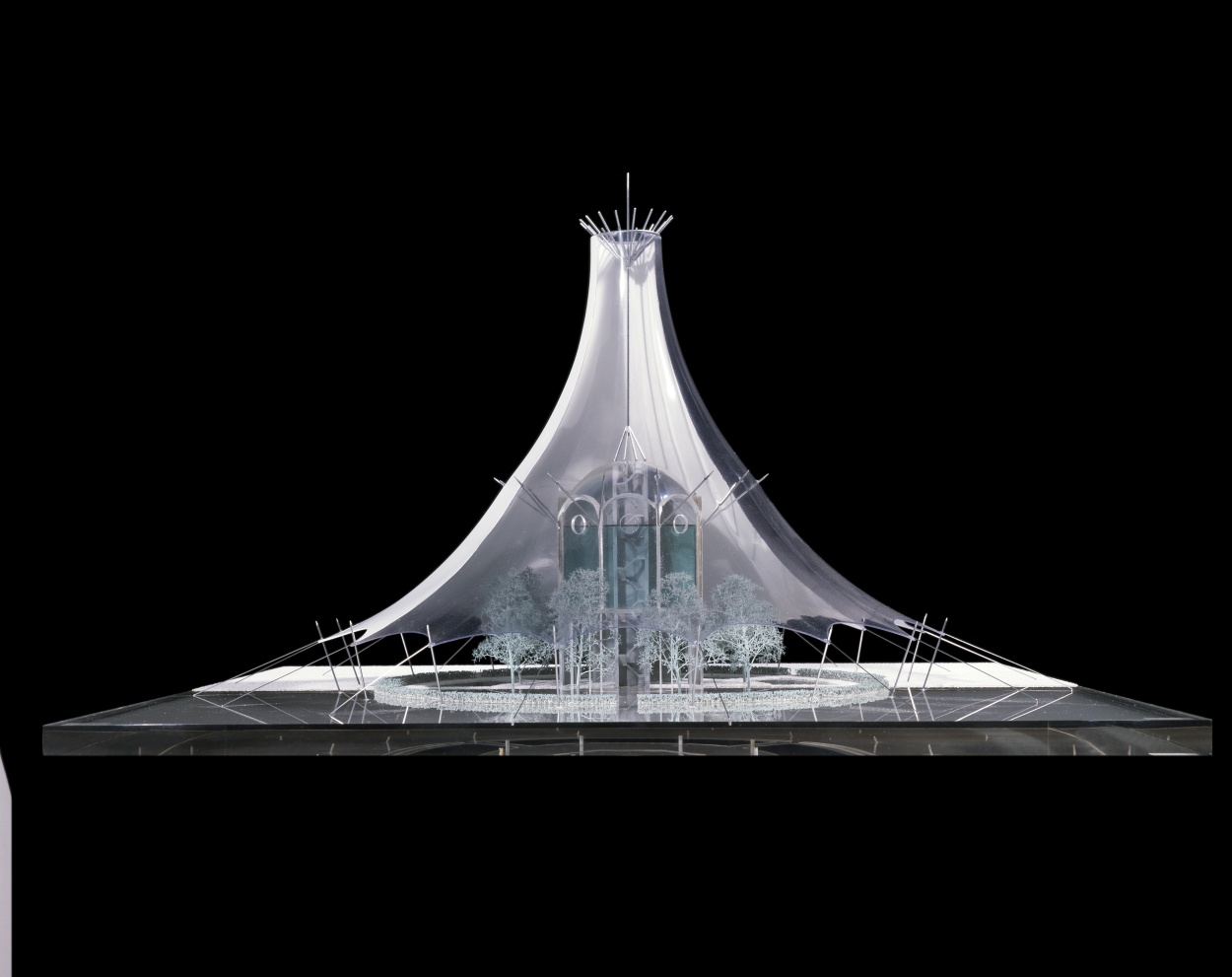 242-Watertower – Monument
Nauakchott
MAURITANIA
Preliminary design (1989); (01-242).
– Architecture
– Landscaping 
– Structural engineering
 2000.12.06
The project is located on the highest sand dune close to the city center. It consists in the main watertower equipment that supplies the whole city.
The prominent location chosen for the project enhances the idea of transforming a utilitarian structure into a major city feature by creating a large public garden shaded by a tent that, at the same time, protects the watertower. The tent protects the watertower from the heat in daytime and the cool air at nightime, and as such is technologically simple.
The hexagonal based prismatic concrete construction contains the water tank. It is naturally lit by a partially glazed covering dome which allows citizens to view the water, a significant element in the arid climate of Mauritania, through eight circular windows, like that of an aquarium.
The walls are intended to be covered with frescoes by the master craftsmen from the forbidden city of Oualata. The tower is surrounded by a waterpool with fountains, that is bordered by Bougainvillias, Neems and Prosopis.
A large PTFE coated fibreglass fabric (50 m in height and 90 m in diameter) covers the whole tower.
l'ARCA n° 41 ; September 1990, pp. 97 – 98 (Italy).
Architecture and Engineering: Philippe SAMYN and PARTNERS All projects are designed by Philippe Samyn who also supervises every drawing
Structural Engineering: Philippe SAMYN and PARTNERS with SETESCO (sister company 1986-2006) or INGENIEURSBUREAU MEIJER (sister company since 2007) if not mentioned
Services engineering: Philippe SAMYN and PARTNERS with FTI (sister company since 1989) if not mentioned
Preliminary design  (1989); (01-242).
---
For plans sections and elevations, please refer to the archives section of the site available from the "references" menu.